Magillow, Daniel H., Bridges, Elizabeth, and Vander Lugt, Kristen T. Nazisploitation! the Nazi image in low-brow cinema and culture. Continuum Books, 2012 Amazon
Nazisploitation, or sadiconazista, is one of the most scorned film genres, and also one of the most complex. The films grouped under that heading may share a common aesthetic but have very different productions and meanings, which this anthology tries to map.
…the standard tropes, settings and narrative conceits of Nazisploitation cinema [include]: sexually perverted, calculating and sadistic Nazi officers, prisoner-of-war and concentration camps, medical experimentation and prisoner rebellions. [Pg.2]
In "Cinema beyond Good and Evil? Nazi Exploitation in the Cinema of the 1970s and its Heritage", Marcus Stiglegger divides the subgenre into three groups by their motivation.
A. films that say something about fascism itself (e.g. Pasolini's Salo, which is based on Sade's 120 Days of Sodom)
B. films that use fascism as a historical background for personal scale drama (e.g. Cavini's The Night Porter)
C. films that use fascism as a justification "to wallow in sadomasochistic excesses" (e.g. Ilsa: She Wolf of the SS) (Pg. 31)
I question the validity of this taxonomy for two reasons: first, it pays attention to the intent of the filmmakers instead of how the films are received by their audience. Second, because these three strata of films all overlap with each other, freely referencing and imitating each other, and with both wartime propaganda and documentaries.
David F. Friedman, who produced Ilsa, was in the US Army Signal Corps in the mid-40s, and was involved in the production of films about the newly liberated concentration camps. (He never left America, however)
The Allies used the Signal Corps's disturbing and now-iconic footage of emaciated survivors and bulldozers pushing piles of corpses into mass graves to convince American and British audiences of the value of their sacrifices, shame German citizens for the actions done in their name, and convict Nazi war criminals at the Nuremberg trails.[Pg.10]
Later, Friedman worked with Howard W. "Kroger" Babb on the anti-Communist film Halfway to Hell (1953), which used similar shock imagery, then produced and played a bit part in Love Camp 7 (1969), then produced the first Ilsa movie in 1974. ("Introduction" by Daniel H. Magilow, Pg. 10-11) This is the familiar blurring of lines we've seen in treatments of Mediterranean and Atlantic slavery, etc.
For the purposes of this discussion, we're looking particularly at the sexual aspects of Nazisploitation,
Perhaps most significantly, these films point to the crucial question of what it means to associated fascism with non-normative sexuality. The willingness of Nazisploitation to consider Nazism's erotic dimensions is in fact a key reason it has become so taboo. [Introduction, pg.14]
As early as 1931, anti-fascists criticized Nazis for appointing known homosexual Ernst Rohm as Party Chief of Staff, accusing them of both sexual deviance and sexual hypocrisy. [Introduction, Pg. 18, endnote 27]
Even "legitimate", mainstream Hollywood treatments of the Third Reich and the Holocaust can feature the seductive Nazi officer, often with a Jewish mistress (e.g. Schindler's List).
Spielberg's direction refers directly to a cinematic tradition of presenting Nazi characters as a direct sexual threat to the Jewish victims. In fact, SS men were themselves threatened by harsh punishment if they committed such acts of Rassenschande ('racial disgrace') as the Nazi's put it. [Beyond good and evil, Pg.24]
Perhaps ironically, Quentin Tarantino's Inglourious Basterds deconstructs the movie trope of the seductive Nazi. The Nazi officers depicted are unrepentent sadists without redeeming features. The German soldier who has a mutual attraction with the female lead seems to lean towards the archetype, but when she refuses him, he turns on her violently, suggesting that the fascist system has corrupted what could have been a decent man. (On the other hand, the Jewish American murder squad operating in occupied France is run on uncomfortably fascist principles: "Nazi ain't got no humanity. They're the foot soldiers of a Jew-hatin', mass murderin' maniac and they need to be dee-stroyed. That's why any and every every son of a bitch we find wearin' a Nazi uniform, they're gonna die.") It's much akin to the deconstruction of the Southern gentleman slaveholder in Django Unchained. These aren't the noble enemy, riven with angst over their brutal actions towards a greater good; they're sadists and cowards who make empty gestures of civility and culture.
Nazisploitation films and other media should also be evaluated as products of their times and place. After The Night Porter, there was a spate of sadiconazista films (of inferior quality by any measure) produced in Italy in the mid and late 1970s (perhaps a displacement of Italy's own fascist history?), drawing on 1960s Italian pulp fiction. This coincided with worldwide liberalization of film censorship, creating films that combined sex and violence in psychodrama. This subgenre drew on earlier discourses linking fascism with deviant sexuality, such as Rodney Colin's 1934 essay claiming that Germans had turned to Hitler because of mass sexual frustration.[Michael D. Richardson, Sexual Deviance, Pg. 42]
Accusations of homosexuality were […] particularly widespread in anti-fascist discourse; despite the Nazis' persecution of homosexuals, anti-fascists often co-opted the Nazis' own language to argue that Nazi leadership was a clique of homosexuals, not 'real men' of the sort who had fought the fascists in Spain.[Pg. 42]
A particular example of this was the 1943 film Hitler's Children, in which the heroine is threatened with forced pregnancy, sterlization and public flagellation. Nazis, in turn, viewed Jews as oversexed monsters, and pushed for a liberalization of sex, but only for non-disabled, heterosexual Aryans. [Pg.43]
Tinto Brass' Salon Kitty argues that this ideology of the right kind of sex, taken to extreme by the fascist state, results in even more sexual deviance, as women are trained to fuck anything, even the physically deformed, for the sake of the Reich. It culminates the vision of an SS officer wearing a custom-made, silver lame superhero suit with the double-lightning-bolt symbol, snorting cocaine and admiring himself in a mirror. (Later, Brass directed, or at least was one of the directors, of the notorious Caligula.)
Imputing sexual deviance onto political enemies can be taken a further step with the archetype of the Nazi dominatrix, epitomized by Ilsa.
The fact that the most evil or depraved antagonists are often women provides these films with an excuse for portraying violence against women, and their subjugation is integral to a just conclusion. The order that is established or, in most cases, re-established in the conclusions to these films is a very traditional gendered order, an order that even the Nazis themselves seem to respect. Promiscuous sexuality, particularly on the part of women, is replaced by more conventional monogamous romantic pairings, or eschewed entirely in favor of a re-established patriarchal family. [Pg. 50]
In the first Ilsa movie, Ilsa's experiments are to prove that women can withstand as much pain as men and therefore should fight on the front lines. This, combined with her authority and her sexual aggression, make her a threat to male power, particularly in the upheavals of the mid-1970s. (Pg. 51)
There are also a few outliers that get lumped in with the other Nazisploitation films. The prime example is Fraulein in Uniforme (1973), also listed as She Devils of the SS (obviously chosen to cash in on the Ilsa franchise). The movie is based on Eine Armee Gretchen, a novel written by Karl Heinz Helms-Liesenhoff, who was a Wehrmacht deserter in 1944, and published in Basel in 1947. The book reckoned with the author's past by presenting the tragedy of an innocent German people ruined by fascists. The book's protagonists, an anti-fascist doctor and his two daughters, try to maintain proper German values in an atmosphere of violence, sexual permissiveness and decadence.
In the best shock-reporting style, the author's indignation about the moral decline of German women results in page after page of detailed and shrill descriptions of those depravities, clearly meant to satisfy readers. [Benedikt Eppenberger, Pg.159]
The author gets into the virgin-whore dichotomy, dividing the young women in the German forces into the naive, lonely ones who are primed to be seduced by male Nazis, and the ideological hardliners who masochistically delight in submitting to their male superiors. "And she yielded to him in Teutonic rapture." (Pg.159-160) The West Germans vilified the author.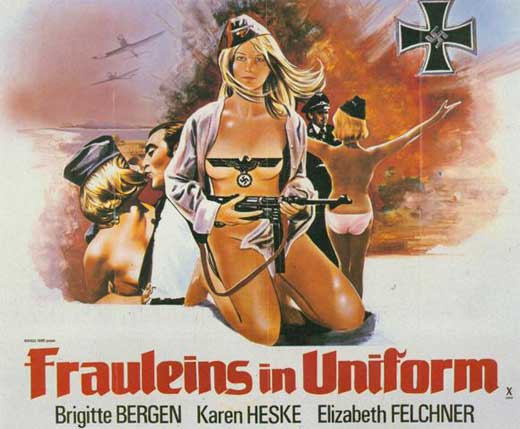 The film version is a rather odd combination of light-hearted sex romp and relatively realistic war picture. Though the film bears very little resemblance to the harshness of Ilsa, the promotional art does everything possible to make it look like more of the same, showing a submachine-gun-wielding blonde woman in a tan uniform tunic, with a German Nazi eagle over her breasts.
Nazis make great villains. They had a great sense of style and they provide a sign of absolute evil that can be killed with little feeling of guilt. There's even a sub-sub-genre of Nazi-zombie films, creating a truly vile yet compelling antagonist. (In Sucker Punch, one of the fantasy sequences involves reanimated corpses in vaguely Prussian/Nazi uniforms, and a character explicitly tells the heroes they shouldn't feel guilty for killing them, as they're already dead.)
But, as Sylvia Plath observed, "Every woman adores a Fascist". Why? The SS officer provides the ultimate Beast who needs the love of the Beauty to become human, the steelhard man who must have a soft, squishy centre.
The SS woman, however, as epitomized by Ilsa, seems to provide a different fantasy, the cruel woman who can ultimately be defeated and controlled, yet always rises again in the sequel.
As WWII and the Holocaust fades further into history and becomes more mythology than fact, the SS officer becomes the perfect prefab villain, divorced from any actual historical specificity. In the hardcore BDSM videos produced by Hungarian porn company Mood Pictures, women in Nazi uniforms are just another set of props, and the explicit references to the July 20th putsch are just a rationale for the flagellation action.
[Nazi-themed BDSM films] highlight the idea that the representations of historical events are exactly that; representations, reconstructions, signs that may point to a distant referent in the past, a referent that need not even evoke the Real that took place under the Nazi reign, but may rather allude to other representations of those events. Indeed, in our day and age, the myth of Nazi Germany that is perpetuated by the mass media has usurped the actual events that occurred more than half a century ago in such a way that the historical referent has been lost, not 'even though' but 'precisely because" it is repeatedly resurrected in popular culture. These fictional reincarnations do not even attempt any 'real' connections to the past, but are rather exclusively driven by concerns of the solipsistic present. [Michael Fuchs, "Of Blitzkriege and Hardcore BDSM; Revisiting Nazi Sexploitation Camps", Pg.291]
They don't reference actual atrocities, but other cinematic depictions of atrocities. Compare this to Anna Freud's theory of fantasy as repeatedly reworked scenario. We've already reached the point at which Barbary Coast slavery is acceptable fodder for fantasy, regardless of the suffering of actual captives centuries ago.
Incidentally, Adolf Hitler's first speech as Reichskanzler on January 30th, 1933 concluded, "… unquestionably, you are not to act, you are to obey and to conform; you have to submit to the primordial need to obey." (Michael Fuchs, "Of Blitzkriege and Hardcore BDSM; Revisiting Nazi Sexploitation Camps", Pg.281)